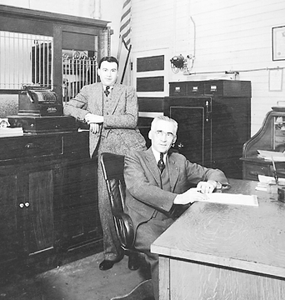 Roxboro Savings Bank was founded in 1923 to serve the greater Person County community.
As proud residents, we believe in the people here – always have and always will. We want to know you better, and help you achieve your financial goals. Because when you succeed, we all succeed. And that helps make our community special.
(In the photo are our early leaders – seated at the desk is John S. Walker and standing is his nephew, J. C. "Bill" Walker in the Jones Hotel location of then-Roxboro Building and Loan around 1933.  Mr. Bill Walker went on to serve Roxboro Savings Bank for over 70 years as managing officer and later as chairman of the Board of Directors.)
Mission Statement
Roxboro Savings Bank's mission is to continue to be recognized as "second to none" in the level of customer service we provide in Roxboro, Person County and surrounding areas which we serve. Our decisions will continue to be made with the best interests of both our customers and employees in mind. Our customers and employees will be treated with respect, honesty, integrity and fairness. We will continue to seek out sensible growth opportunities and we will continue to perform at the highest levels of profitability in order to provide capital for future growth. We believe that we must be responsible and caring partners in the communities we serve and we aspire to set standards of excellence that will reward both customers and employees.
2022 Annual Financial Statement
Board of Directors and Corporate Officers
Mr. Roy T. Brooks –  Chairman/President
Mr. J. Linwood Cates– Vice Chairman/Vice President
Dr. Pamela G. Senegal – Secretary
Mrs. Jenny B. Eggleston – Treasurer
Mr. Keith A. Epstein
Mr. Huntington B. "Hunt" Fitzgerald
Mrs. Jane D. Long
Mr. William K. "Kirk" West, Jr.
Mrs. Sherry C. Wilborn
Management Team
Keith A. Epstein
Executive Vice President and CEO
Crystal F. Long
Vice President and Senior Mortgage Loan Officer
Jane D. Long
Senior Vice President and Chief Administrative Officer
Merilyn P. Newell
Vice President and Chief Marketing Officer
Secondary Markets Manager
Derek R. Green
Vice President and Chief Credit Officer
J. Kendall Shaw
Vice President and Branch Manager
Kristi R. Bray
Vice President/Controller
Joyce B. Whitfield
Vice President and Systems Administrator
Christi L. Gravitte
Vice President of Finance & Business Administration